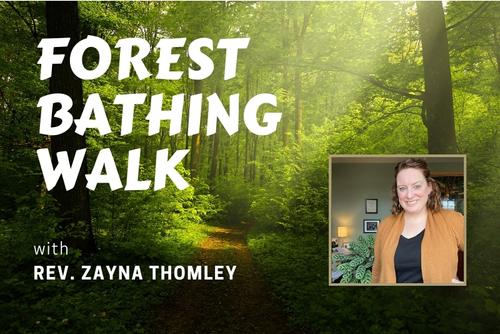 Forest Bathing – A Spiritual Walk in the Woods!
Saturday, September 30 | 9:00 a.m. | Location: TBA
Rev. Zayna Thomley, certified forest therapy guide with The Forest Therapy School and pastor at Middleton UCC, will lead us on a 1.5-2 hour forest bathing walk. 
The Japanese art of Shinrin Yoku, also known as forest bathing, is a mindfulness practice with many proven benefits to the human body. Join us as we combine a love of nature, spiritual practice, and community connection in this brief time in a local forest.
Space is limited. RSVP to Associate Minister Ann Beaty.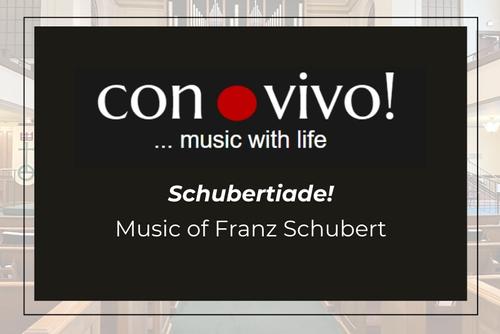 Friday, October 6 | 7:30 p.m. | Sanctuary
Join con vivo! for their fall chamber music concert, "Schubert Masterpieces." con vivo! will celebrate the genius of Franz Schubert with selected lieder for voice and piano, and his magnificent Octet for winds and strings. Join them Friday, October 6, at 7:30 p.m. in the Sanctuary. Tickets at the door: $20/$15 seniors and students.
For more information visit convivomusicwithlife.org.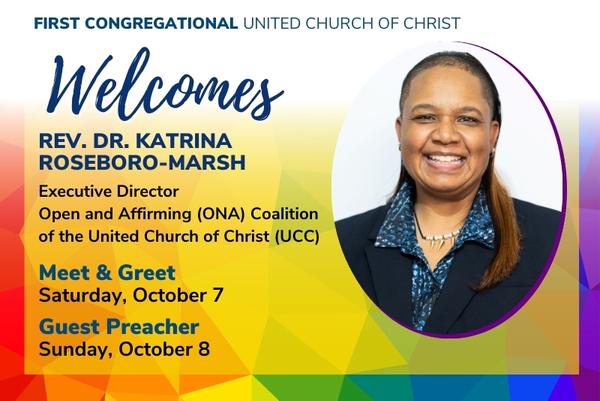 Open and Affirming Celebration
In celebration of FCUCC's 31 years of being an Open and Affirming (ONA) congregation, we welcome Rev. Dr. Katrina Roseboro-Marsh, Executive Director of The Open and Affirming Coalition of the United Church of Christ. 
Meet and Greet
Saturday, October 7 | 9:00 – 10:45 a.m.
Goodman Center, 214 Waubesa St., Madison
Just Bakery pastries will be served.
Guest Preacher
Sunday, October 8 | 10:00 a.m. | Sanctuary, Livestreamed
Q&A in the Chapel following Worship. Box lunch available. RSVP for Q&A.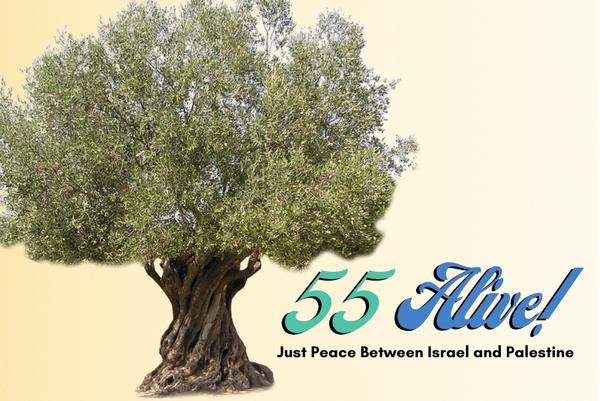 55 Alive! Just Peace Between Israel and Palestine
Wednesday, October 11 | 11:30 a.m. – 1:00 p.m. | Chapel
Join us for a presentation and discussion on the General Synod resolution, "Declaration for a Just Peace Between Palestine and Israel." Leading the session are Rev. Diane Dulin and Tom Beilman, who recently served on the Steering Committee of the UCC Palestine-Israel Network.
Jason's Deli boxed lunches are available for $10.00 each. Register online.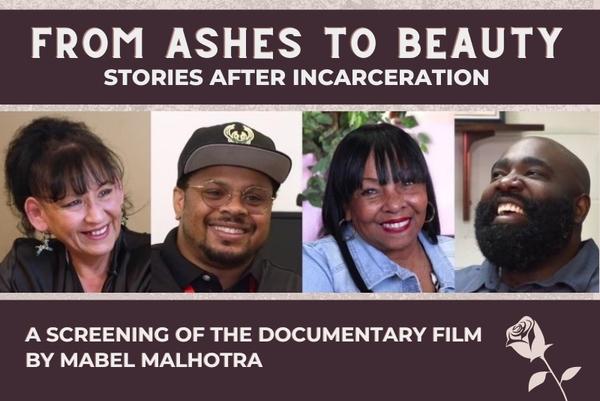 Film Screening and Panel Discussion
Thursday, October 12 | 7:00 p.m. | Chapel
Community members are invited to a free screening of From Ashes to Beauty: Stories After Incarceration, a 30-minute documentary film highlighting four stories of success after incarceration. A 45-minute panel discussion with the film subjects and creators will follow.
Personal care items (shampoo, conditioner, soap, toilet tissue, puffs, or deodorant, etc.) will be collected. Donated items will be distributed to The ASHA Project, Ex-incarcerated People Organizing (EXPO), and the food pantry on the Menominee Reservation.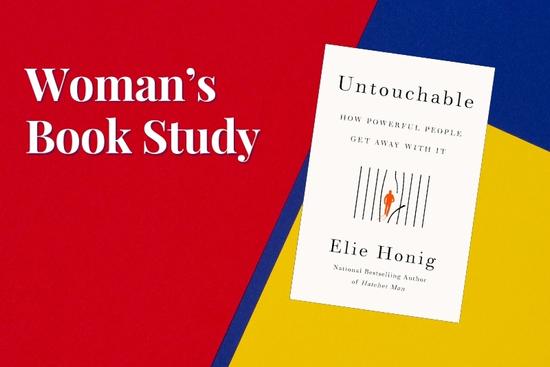 Untouchable: How Powerful People Get Away with It. CNN senior legal analyst and nationally bestselling author Elie Honig explores America's two-tier justice system, explaining how the rich, the famous, and the powerful manipulate the legal system to escape justice and get away with vast misdeeds.
The group will meet Saturdays, October 14 and 28, November 4 and 18, from 8:00 – 9:30 a.m. via Zoom.  A few copies of the book are available through the church office for $15.00. (scholarships are available) Email Associate Minister Ann to reserve a book or be added to the Women's Book Study group.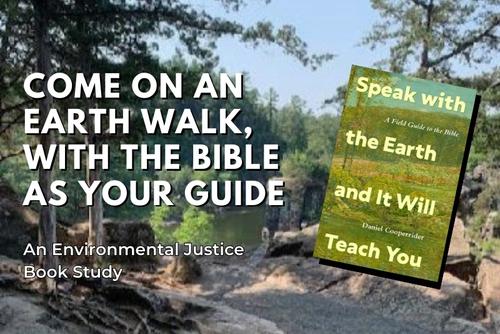 Environmental Justice Book Study
Sunday, October 15 and 29 | 11:00 a.m. | Hearth Room/Zoom
The Environmental Justice Group is leading a book study of Speak With the Earth and It will Teach You by Daniel Cooperrider. Cooperrider, local writer, teacher, and UCC pastor, explores the relationship between nature and scripture ("God's two books") focusing on the creation elements of water, fire, earth, and air. 
On Sunday, November 12, Cooperrider will join the group for a presentation and discussion. Several copies of the book are available for $15. Register online, or RSVP to Associate Minister Ann, by Wednesday, September 2.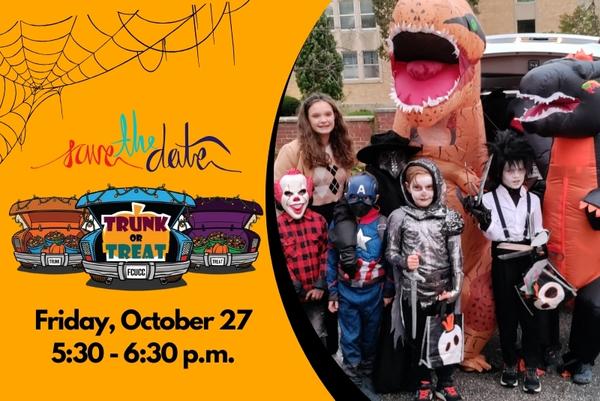 Save the Date: Trunk-or-Treat!
Friday, October  27 | 5:30 – 6:30 p.m. | First Congregational UCC-Madison
Don your costumes and meet your friends in the First Cong parking lot (corner of University and Lathrop) for treats, games, a photo booth, and entertainment. 
All are welcome!
Fight Hunger ‒ Join the 2023 CROP Walk
Sunday, October 15  | 1:00 p.m. | First Congregational UCC-Madison
The CROP Hunger Walk and the funds raised feed the hungry through the world. When you join the movement by donating and raising funds, you provide life-saving support like emergency food, along with the seeds, tools, and programs that help families feed themselves in the future. 
Funds raised support Church World Service (CWS). 25% of funds stay local.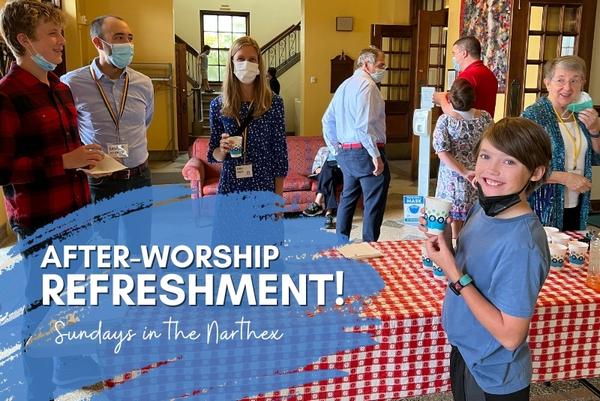 After-Worship Refreshment!
Weekly on Sunday | 11:00 a.m. | Narthex
Come for worship, stay for fellowship! On the second and fourth Sundays of the month enjoy refreshments after worship in the Narthex. It is a great opportunity to connect with church members and friends.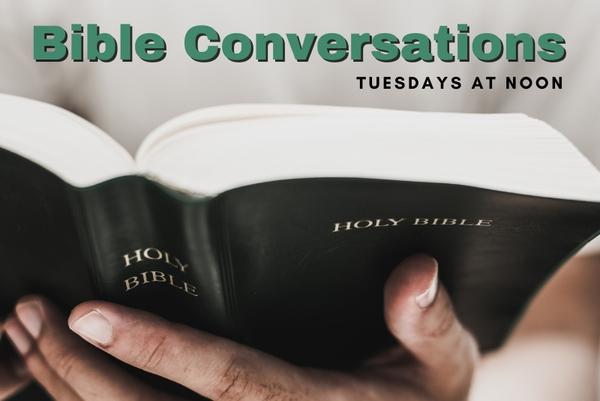 Weekly on Tuesday | Noon | Zoom
A weekly discussion group and conversation around Sunday's scripture reading. The group is currently meeting via Zoom. Drop-in anytime!
If you are interested in attending, please contact Associate Minister Ann Beaty.
Weekly on Wednesdays | 12:00 p.m. | Hearth Room
Gather with other fiber artists and crafters in the Hearth Room. Bring your knitting, crochet, sewing, or other handmade works-in-process to work on while socializing. Light refreshments will be available, but you are welcome to bring your own lunch or snack.
New to fiber arts? No problem! Contact Melissa Baumann or Jessica Taft to ensure someone is available to teach or guide you.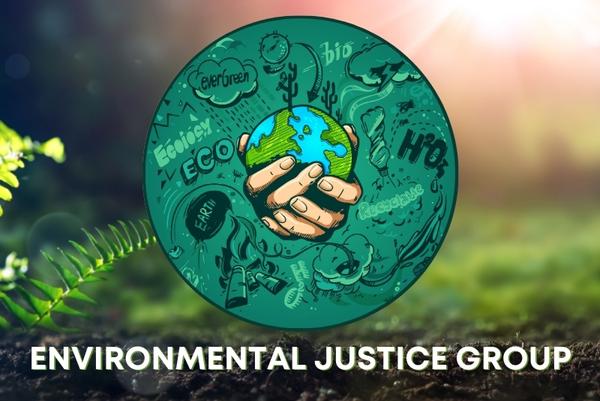 Environmental Justice Group
2nd Sunday of the month | 12:15 p.m. | Hearth Room and Zoom
Are you interested in knowing more about creation care and advocacy opportunities related to the environment? First Cong's Environmental Justice group is for you! 
Join the join in making a healthier, brighter, tomorrow!
If interested, contact Associate Minister Ann Beaty.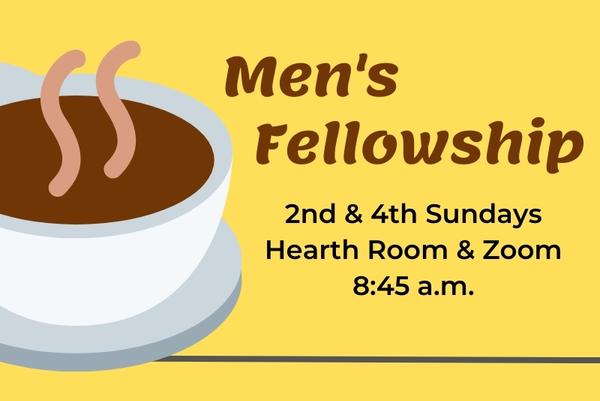 2nd and 4th Sunday of the month | 8:45 a.m. | Hearth Room and Zoom
If you are interested in small group discussion, this group is for you! A group of men gather monthly to share coffee and fellowship. Typically the discussion is formed around an article on recent event that was distributed in advance. It's a great forum to get to know one other and engage in contemporary topics from a Christian perspective. 
If you are interested in attending, please contact Associate Minister Ann Beaty.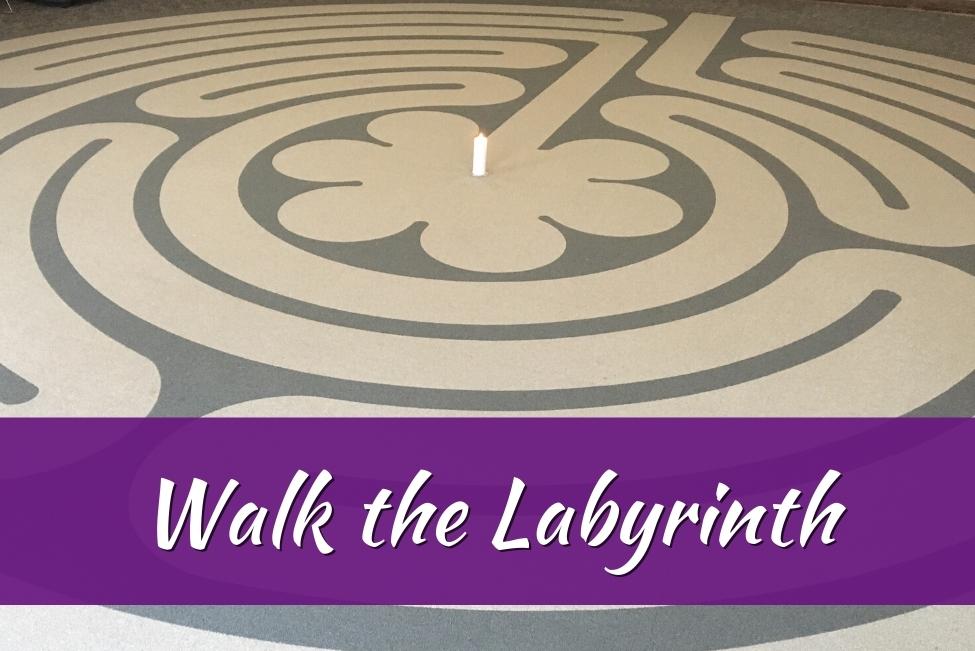 Walk the Chapel Prayer Labyrinth
First Sunday of each month | 9:00 a.m. – 12:00 p.m. | Chapel
The prayer labyrinth is an archetypal pattern, a "divine imprint," found in religious traditions in various forms around the world. In recent years, walking a prayer labyrinth has been rediscovered as a meditative way of praying. Unlike a maze, a labyrinth has only one path. It is designed to quiet the mind and lead the walker by a winding route to the center, and then, by the same route, to return to the exit.
The labyrinth is free and open to the public.
Last Sunday of each month | 12:15 p.m. | Zoom
Are you caring for a friend or loved one? Do you anticipate assisting someone in the future with decisions about care? This group offers supportive conversation and opportunities to learn from one another. It is also a great way to get connected to resources available to help.
If you are interested in attending, please contact Associate Minister Ann Beaty.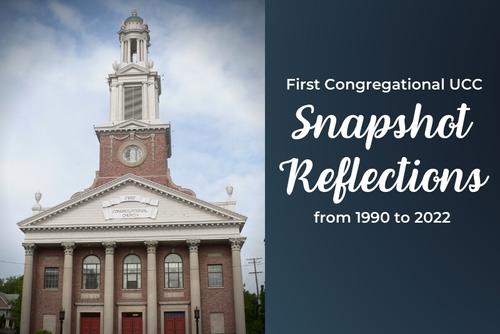 First Cong History 1990-2022
What do you remember our Church during the years 1990 to 2022? What was important to you during these years? Janet Pugh, Faye Whitaker, and Sue Jones compiled "Snapshot Reflections on the Years From 1990 to 2022."
Binders of the featured slides from the presentation are available in the office for checkout.
On Sunday, February 20, First Cong dedicated the solar panel installation during worship. The project grew from environmental justice discussions. The 61 kW solar array provides about 65% of the church's electricity – significantly reducing our carbon footprint. The energy savings from switching to solar will go toward local social justice initiatives.